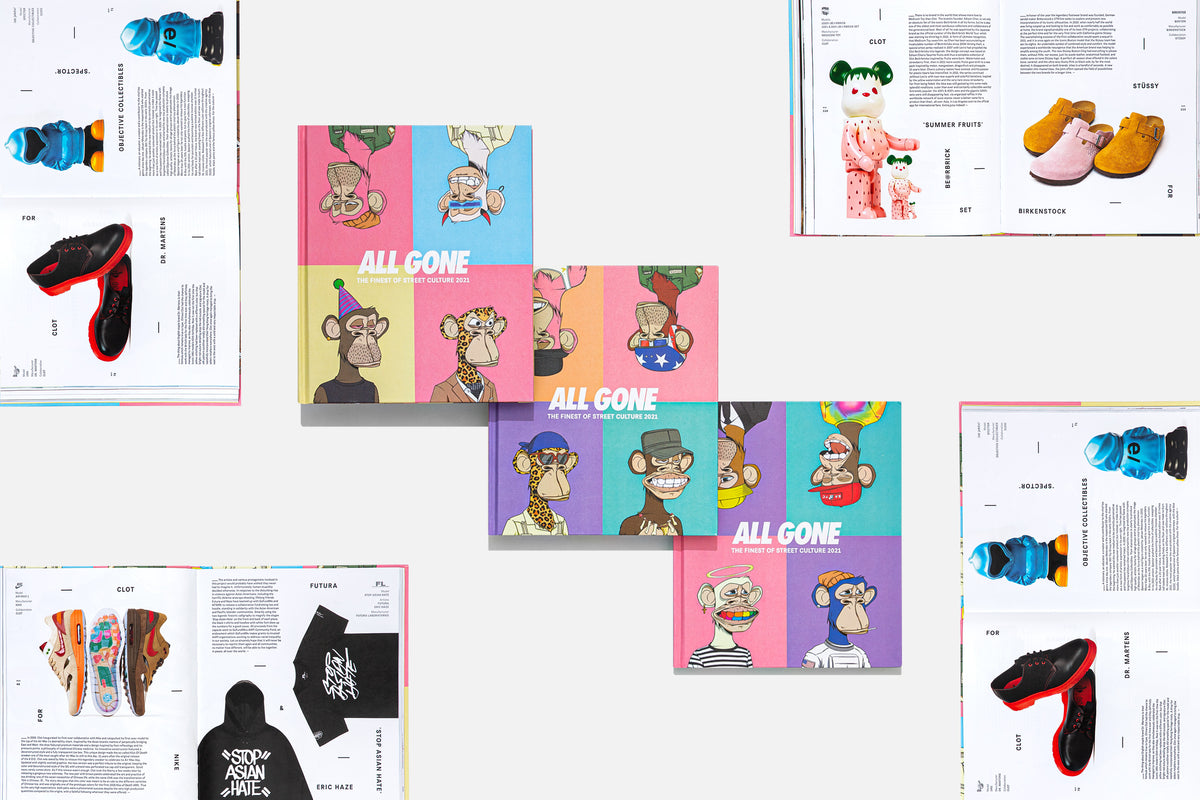 ALL GONE 2021: THE MOST IMPORTANT STREET CURATIONS OF THE YEAR
One of the major manuals of street culture, All Gone is back for its 2021 issue, citing the most important curations of the time. This year, the book's producer Michael Dupouy has - along with streetwear - delved into the digital realm. Street culture — as a result of the COVID-19 induced pivoting of the industry - has embraced the digital movement, pertaining to the popularity of decentralised infrastructure, crypto, NFTs, and even new unexplored concepts such as the Metaverse and Web3.
The distinct hard-cover front on each of the three books display these new and digitally progressive ideas in full force, with its illustrative graphics provided by owners of the infamous Bored Ape Yacht Club NFTs. For Dupouy, these graphics were symbolic of 2021 and have been made a marker for the fast-paced digital evolution that has been evidently embraced by the scene. Trying to catch a ride on this NFT/Metaverse-fueled hype train —new brands and old brands a-like are attempting to tap into this digital revolution, and only time will tell the worth of the uprising.
With the exponential growth of street and hype culture in 2021, came chaos in numbers — and as such, selection for the most important aspects of the year became a difficult task. The book taps into some of the most prominent figures of the scene, looking into each and every creative crevice to find the best releases, collaborations, and innovations the street world has ever seen.
Featuring insightful pieces on Kaws, Daniel Arsham, Futura and his Hong Kong exhibition, CLOT and its Medicom collab, Ye and his YEEZY domination, Off-White and Pioneer DJ on the DDJ-1000-OW rework (for the hype selectah), Jordan and A Ma Maniére's renowned collaboration, Joe Freshgoods' partnership with New Balance —and many-many others. I guess you'll just have to buy the book to find out what's what.
Be sure to get your hands on the extremely limited edition hard-cover handbook of street culture, All Gone 2021 "APE SHALL NEVER KILL (BORED) APE", "(BORED) APES TOGETHER STRONG", and "PLANET OF THE (BORED) APES" with only 1750 copies in existence —Including the ones in our stores. Set to release on 10 March 2022 at JUICE locations worldwide. 
SELLING DOORS:
JUICE CAUSEWAY BAY / JUICE K11 MUSEA / JUICE CENTRAL / JUICE SHANGHAI (JULU ROAD) / JUICE CHENGDU IFS / JUICE GUANGZHOU / JUICE LOS ANGELES / JUICE TAIPEI / JUICE TAICHUNG

WWW.JUICESTORE.TW
WWW.JUICESTOREUSA.COM
WWW.JUICESTORE.COM