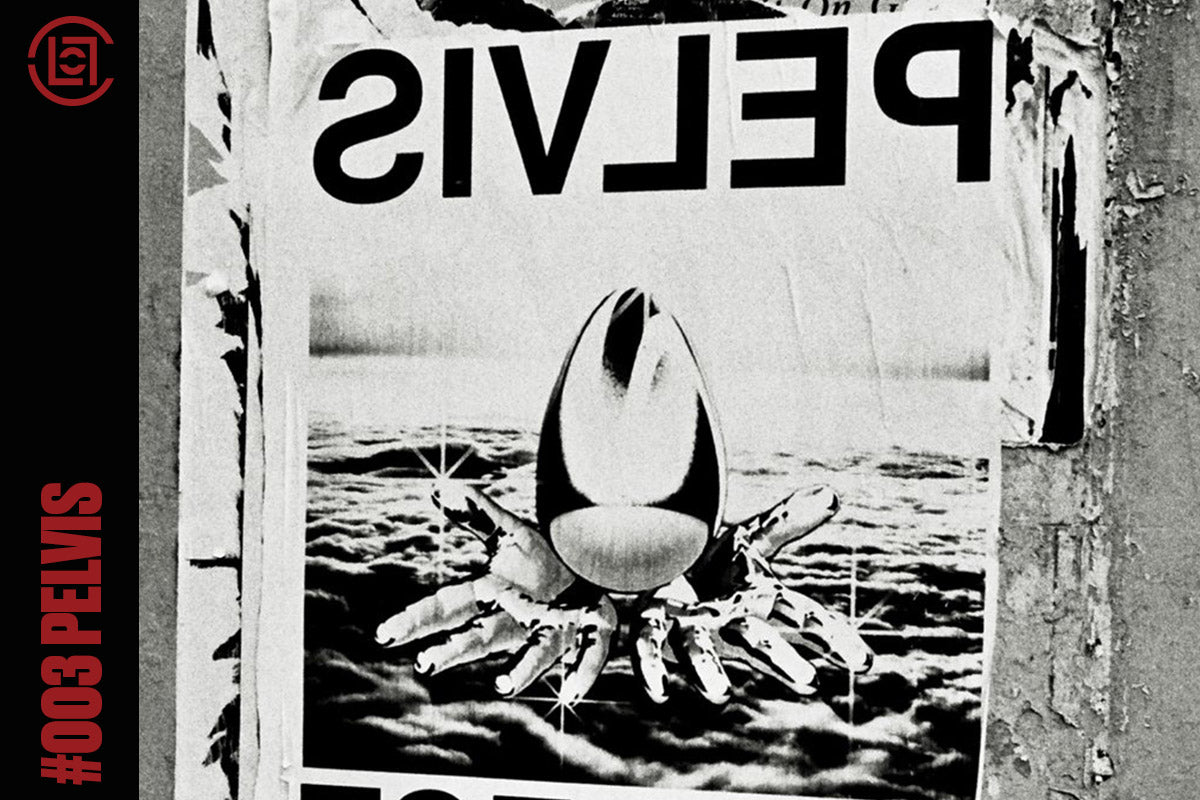 Pelvis is a somewhat amorphous enterprise. 
Physically, its membership is split between Melbourne, Sydney and (sometimes) New York. Operationally, the slipperiness remains: Vaguely resembling a mixed business operation, Pelvis deals in parties, fashion and record releases. I'd hesitate to call Pelvis a lifestyle, for fear of conjuring the rigidity of a raw vegan diet, or the pomposity of a costly country club, pallid cardigans draped neatly about proud shoulders.
But certainly, Pelvis is several discrete arms intersecting to form a relatively cohesive thing.
Beginning as a regular feeding ground for Sydney's keenest club dancers—their parties contained a very distinctive, very addictive secret sauce—Pelvis soon stretched their arsenal to include merch, and in 2016 launched the record arm, through which they've released music by artists like Mall Grab, DJ Haus, Secret Circuit, Luca Lozano and more. Somewhere in there they also managed to play inside Australia's most prominent cultural edifice, The Sydney Opera House, twice.
Their latest triumph? Assembling an exclusive mix for CLOT that you'll find down below! We also chatted with 1/5 of Pelvis, Elliot Shields, mostly about music things.
Pelvis begun as a Sydney dance party. Was there a contribution you wanted to make to parties or Sydney at the time?
Pelvis began in 2012, when we were all listening to similar music and DJ'ing together as a group. We were offered a monthly spot at Goodgod Small Club in Sydney after playing a few shows for Vice and at the Opera House and everything took off from there.
What is Pelvis now?
Pelvis is a record label, a clothing label, a party. It's always moving and changing which is what keeps it interesting.
Concerning the record label arm of Pelvis what have been your favourite releases? What's arising this year?
The DJ Tools series has definitely been a highlight, enabling us to put out songs from our friends and artists that we like which otherwise might not have seen a wide release. Also, the Dormir record was great as a collaboration with Burning Rose—it's been cool working with everyone to get that out. This year, who's to say!
There's quite an identifiable visual component to the brand, but many different aesthetic orbits within that. Is it difficult blending very many elements to such a ~cohesive~ and recognisable end?
There is never really a strong idea of what something should be for Pelvis, but often an idea of what it shouldn't be. We like to just keep changing things and making it feel new for ourselves, which ends up being a big blend of references and ideas. It's a feeling!
A club full of people leave the long-hyped party early. What went wrong?
There's no smoke.
The most reliable drug sources don't attend when they said they'd attend. Does it matter? Who stays 'til the end anyway?
As long as there is smoke. 
"What was that song? It wasn't on Shazam," asks everyone when the lights come on. What do you hope it is?
Hopefully the latest from Pelvis Records :)
"I love what you've done with the place," comments everyone at a particularly extra Pelvis party. What was the theme and how did you dress the club?
There is a secret theme we've been saving for the right occasion, but if we're talking about real life maybe the day spa when we brought an actual spa into the club.
Okay, real life. What are some of the most memorable party themes from the Goodgod residency?
There was a 'Fashion TV' party for which we made a fake photo wall of logos, and there was a runway in the club. For the 'Reflect' party the whole club was wrapped in reflective silver sarking and laserdiscs.
Lastly, what are your big party plans for this year?
Launching a few new records! And hopefully touring some friends from up top.
Words / Melissa Kenny