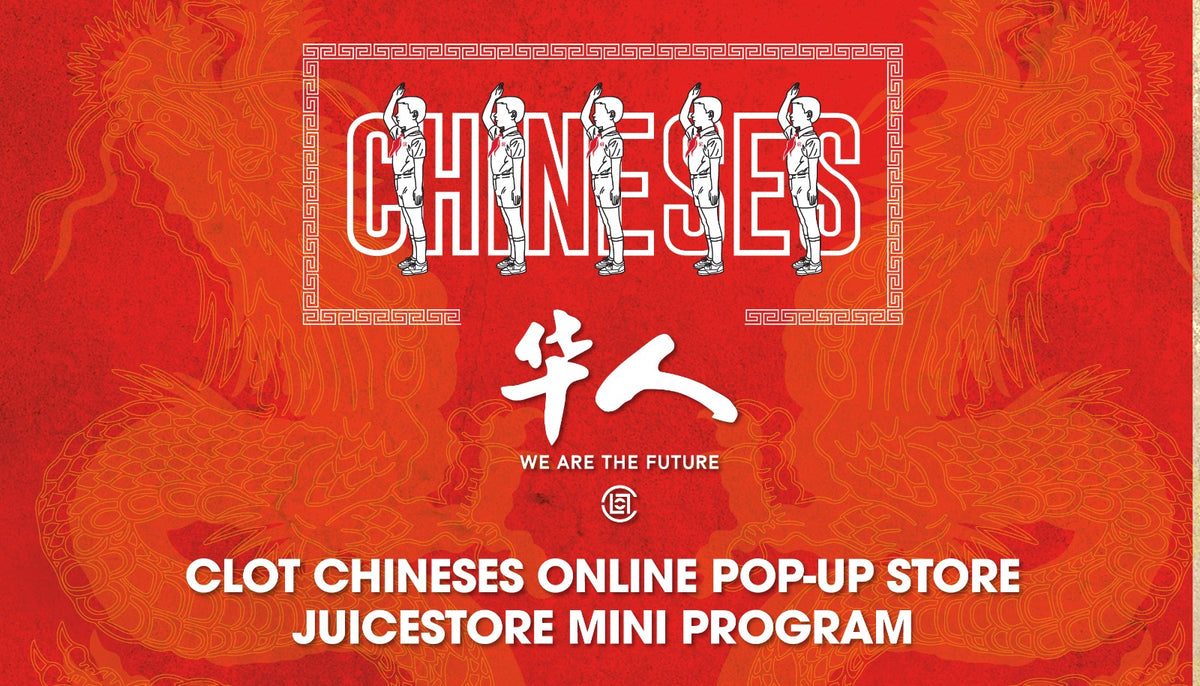 CLOT Huaren Chineses to Launch its First-Ever Online Pop-Up Store on JUICE STORE WeChat Mini Program!
From its first appearance at CLOT's New York Fashion Week presentation in 2018 to its extensive pop-up tour, the CHINESES series has since become one of CLOT's most iconic releases. With a mission to bridge the East and the West, CHINESES was envisioned to celebrate a new era of Chinese culture highlighted by Chinese youth and creatives worldwide. 
The iconic CHINESES T-shirt on Edison at NYFW 2018
Last year, CLOT brought the CHINESES collection on tour to Shanghai, Guangzhou, Xi'an,  Chengdu and Melbourne through an immersive pop-up event that shared its designs and message with its fans. Each event showcased a new lineup of designs including exclusive limited edition items like traditional Chinese Mahjong sets, Hand carved furniture and exclusive CLOT Tea sets - important tokens of China's long and fruitful culture. Location played an important part as well - embracing local culture like the Chinese Panda and bamboo setting for Chengdu and a special terracotta t-shirt for the pop-up in Xi'an. 
CLOT CHINESES Pop-up in Shanghai


CLOT CHINESES Pop-up in Guangzhou


Special release items exclusive to the pop-up events
Ahead of the on-going pandemic, CLOT connects the world with CHINESES online through its first-ever digital pop-up store on JUICE STORE WeChat Mini Program platform. Starting on October 13, fans can tap into CLOT's latest digital experience with new limited-edition items releasing daily along with special releases and giveaways! The latest CHINESES series presents 4 limited-edition Tie-dye T-shirts in 'Purple', 'Sky blue', 'Pink' and 'Black'.
On the first day, we will draw 4 lucky customers who purchased the CHINESES Capsule 'Purple' Tie-dye T-shirt. Three customers will have the opportunity to receive the exclusive CLOT CHINESES Table Tennis Set, which includes a Hoodie, Keychain, Table Tennis Racket and Ball! One customer will have a chance to receive a custom hand-carved CLOT Mahjong Set!
Fans worldwide can unite and join CLOT's CHINESES afterparty on October 16 and tune into the live DJ session by CLOT co-founder Kevin Poon. Follow JUICE and CLOT's WeChat account for more news and updates and don't miss the new drops at JUICE STORE WeChat Mini Program! 
Date: October 13 to October 16 
Location: JUICE STORE WeChat Mini Program

Scan the QR Code below to launch the JUICE STORE WeChat Mini Program!